Agents & Distributors Wanted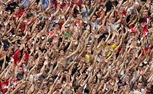 31-05-2015 16:05
The opportunity provides the agents & distributors to sell with a exclusive license right into their chosen areas.
Who are we looking for?
The ideal candidates have an excellent network in football and maintain close contacts at various levels within the (technical) staff and other influential people within football clubs and business at home and abroad.
If you would like to discuss this opportunity, just send us an email (preferably with cv.) at info@polesoccer.com and we will contact you as soon as possible.