Children of Sophia Children Hospital wish Feyenoord good luck for classic derby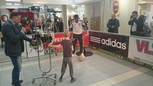 19-01-2015 17:57
On Monday the players and staff were welcomed as heroes by dozens of children, who enjoyed the attention they got from the players. Besides, while visiting the hospital a check was handed over, worth a whopping 21,292.27 euros. That amount was collected during a collection held at De Kuip Stadium during Feyenoord - Go Ahead Eagles match in the season 2013-2014.
For this day the main lobby of the hospital was transformed into a space where the children could play and participate in a number of games against Feyenoord players. Like Terence Kongolo and Luke Wilkshire who dare the battle with the children in the Pole soccer field or at the football table, while Ronald Graafland and Lucas Woudenberg participated in the Feyenoord quiz with questions about Feyenoord.
For some players it was the first time that they were present in the Sophia Children's Hospital and all were very impressed. For let us be aware, these children are not here for nothing unfortunately. That is precisely why it is so nice to give them a smile on their face. Very simple things like have your picture taken with your favorite player or join the games let the kids truly blossom again. And that is exactly why we do this!