National Football Exhibition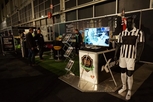 03-12-2014 12:11
The Dutch National Football Exhibition is the annual event in the Netherlands where suppliers and stakeholders of this beautiful sport come together.
Some 10,000 visitors (such as managers, trainers, physiotherapists, treasurers, sports officials) come in contact with 250 companies, including artificial turf suppliers, sportswear, medical providers, hospitality, sponsorship systems and many others.
This unique concept was organized again this year for the third time by ZPRESS Sport.