AFAS Pole Soccer D-Youth Tournament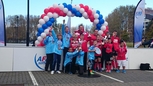 16-10-2014 15:36
At this tournament 13 disability teams from clubs of the North Holland region joined in a very special competition.
The AFAS Pole Soccer® D-Youth Tournament Soccer is a unique concept and never organized in this form. The sports day was organized by sports marketing agency House of Sports behalf of the Dutch Disabled Sports Fund. The event supports the ambition of the Fund and its partners to make sport possible for anyone with a disability.
4 Pole Soccer® Arenas were build up on the parking lot right next to the AFAS AZ-stadion. The matches consisted of short series with teams of up to four players. In the finals, the team of SV WMC Heerhugowaard proved most succesful. From the hands of AZ coach John van den Brom the players received the beautiful championship trophy.