Media Markt FIFA 15 Release Events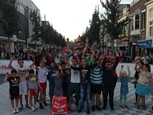 26-09-2014 15:28
The starting point was a multi-day commitment spread across the provinces in the Netherlands. Pole Soccer® was asked by Media Markt to add a sportive and spectaculair element.
During three days, sixteen stores of Media Markt were visited by Pole Soccer with mobile versions of the Arenas and competitions were held according to the "Last One Standing" principle (the last remaining player of four, goes through to the next round - knockout ).
Everyone could freely participate in the competitions and had the chance to win the prices provided by Media Markt.