Visiting FC Schalke 04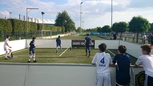 16-09-2014 15:13
Pole Soccer was invited here by the technical staff of the Schalke Youth Academy.

During the day there were several games and trainingsessie's finished. The youth teams could take turns to show their skills in the Pole Soccer Technique Arena. What a showcase of high level football! And above all a lot of laughter and fun. What a super feeling to hear and see so many positive reactions about this typical Dutch football game.
Afterwards we catch up on a further collaboration. More news soon.