Feyenoord Soccer Camp V.V. WFB Ouddorp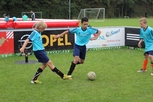 21-07-2014 14:43
Train the Feyenoord way! 84 participants, including five girls, had the honour to experience this special football camp for the first time.
During the trainingsessions there was much attention on developing technique, such as ball control, fast footwork, feint and trick movements, improving starting speed etc. On day two the focus was on a special trail with lots of activities like Pole Soccer.
The Soccer Camp ended at 4 p.m. with a final training. In the canteen of v.v. WFB. all participants received traditionally a certificate, as confirmation the participant to have successfully accomplished the Feyenoord Soccer Camp. After this ceremony, and off course after they scored several signatures of the trainers, they went home more than happy.