Feyenoord Open Day Event 2014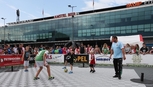 20-07-2014 16:34
On this day the selection for the new football season traditionally is presented to supporters of this famous Dutch club.
The new coach Fred Rutten and some new players, including the brand new defender Khalid Boulahrouz, could for the first time experience how special it is to be cheered by 40.000 supporters in a packed Kuip.
Prior to the official presentation several Feyenoord sponsors and partners were present with fun activities on site. For example, be an official radio presenter at "Kameraadjes Radio", your picture placed on the front page of Metro and for the youngest fans there was a special OPEL Soccer Village right in front of the Maasbuilding. With a stamp card the kids could participate in various activities.
And what a party it was! Many kids found their way to the Soccer Village. The bungee trampoline, Pole Soccer and Bungeerun proved the most popular activities.
The kids supporters Parade, which 250 children participated, was a wonderful warm-up for the program inside a raging Kuip. The Feyenoord players were also enjoying themselves and danced on the stage during the presentation and off course the spectacular landing of the helicopter on the center spot was the highlight of the day.