CSR Feyenoord Pole Soccer Championship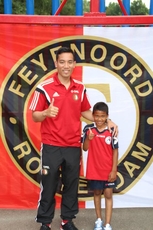 16-07-2014 16:18
An unique CSR project in collaboration with Feyenoord.
Besides the presence of a large bouncy, the 40 finalists of the preliminaries and supporters also could make an attempt to be the best of the best in the Pole Soccer Arenas.
The preliminary rounds of the championship have already started in April and took place at 4 participating schools Daltonschool, Podium, Albert Schweizer and Park16Hoven. There were three categories, namely: Group 3/4, Group, Group 5/6 and 7/8.
The school finalists of the preliminaries competed against each other for the grand prize. From each age categorie the best player won a cup and a coveted spot at the Feyenoord Talent Day coming spring 2015. This is a special training module of 10 courses, taught by official Feyenoord coaches at the youth academy of Feyenoord. As a big surprise the head of the Feyenoord Academy Damien Hertog did the awards ceremony himself.
The project is an unique CSR project of Feyenoord and Pole Soccer to stimulate and encourage schoolchildren to sport and to support a healthy and responsible lifestyle.