First Pole Soccer Arena at Feyenoord Academy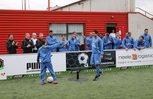 16-05-2014 19:06
Also Feyenoord has a mobile version of the Pole Soccer Arena available for activities of Feyenoord Soccer Schools and CSR projects.
The club from Rotterdam is for young and old. For natives and immigrants. Feyenoord does not discriminate and is accessible to everyone. Therefore Feyenoord Soccer Schools, Feyenoord CSR and Pole Soccer go on a regularly basis to Rotterdam neighborhoods and schools to promote en encourage young talents their development with sport and excercises.
Would you like to visit the Feyenoord Academy to experience and see 'live' how the best youth academy of the Netherlands have applied Pole Soccer in the training program? Please feel free to contact us. We are happy to arrange a guided tour by appointment.
For a special report of the official opening of the Pole Soccer Technique Arena at Feyenoord Academy, please click on the link below.
http://www.feyenoord.nl/nieuws/nieuwsoverzicht/selectie-opent-pole-soccer-veld-op-varkenoord