Pole Soccer at Robin van Persie Tournament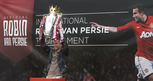 24-05-2014 18:57
The tournament of the man who leads the Dutch national team at the World Cup and will try together with Louis van Gaal to become champions of England again. VDL could not make a better announcement. No wonder every youth soccer player in the Netherlands wanted to participate in this tournament. Just 18 hours after the sales start in October last year the tournament was already fully booked!
The official Robin van Persie tournament is an initiative of the Manchester United player. His goal is to give something back to the youngest youth in amateur football. Every year the tournament has a varied program. One year we only offer all Dutch amateur clubs to participate, another year the tournament is international. The European professional edition again will be held next year!
By the enormous impact of this international well known player and the excellent organization the tournament has become one of the biggest tournaments of the Netherlands in the youngest pupils categories: mini F, F-pupils and E-pupils. This year 50 clubs participated in the Robin van Persie tournament and over 150 matches were played.
There is also a great interest from professional football clubs. Feyenoord is present each year and for next year many international clubs from all over the world already stand in line to join in.
Pole Soccer was also present at this edition. VDL says: 'the organization is very proud to have booked Pole Soccer again this year. The Pole Soccer Technique Arena is the craze among the youth. Every football club wants to have a Pole Soccer Technique Arena'.